Learning Conflict from Kids' Movies
Much of the feedback we find ourselves frequently giving writers is for them to increase key components of theatricality: conflict, jeopardy, obstacles, angst and eventfulness (i.e. C.J.O.A.E.). One would be surprised at how often these crucial elements are in short supply – even in the strongest scripts we've read. Sometimes it comes down to writers' unconscious sensibilities – they may be shy or uncomfortable with overly dramatic situations in real life and this can get projected onto the page.
Others don't realize how much truly viable hardship can be heaped on. But when one considers that most folks go to films and plays to freely feel their most human emotions – to shed passionate tears for the highs and lows of existence, or revel in the wicked behavior of a delicious bad guy, or reel with a beloved heroine as she makes colossal mistakes – then as a writer, it is easier to understand why copious amounts of C.J.O.A.E. are so essential to excellent storytelling.
No person will teach you this faster than a child. Spend an hour in dramatic play with any kid and listen to how much peril befalls Barbie and G.I. Joe alike.
So it is no wonder that in our current age of high-tech animation and ultra-sophisticated programming for young people, a writer can learn a ton about the use of conflict – as well as great storytelling in general - from viewing children's films.
Believe it or not, many of the kid films out there today are not only stellar examples of impressive scripts, but downright stronger films than much of what's being peddled to adult audiences.
Take for example the classic film, Rango. The plot follows both the personal survival of a heroic chameleon who gets lost in the desert, and the survival of a desert town that's run out of water.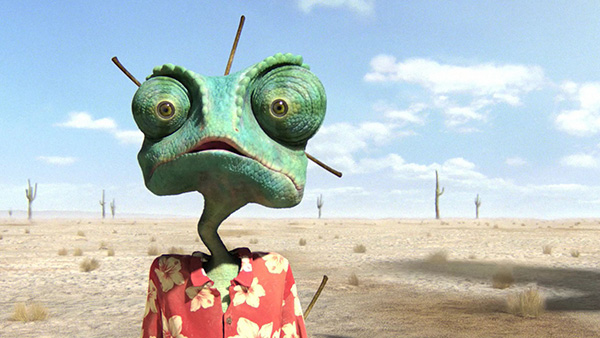 At the same time, the story tracks the existential arc of the hero, who has always been "lost" inside – he has no idea who he really is and struggles to embrace a true identity. These three trajectories are dramatized with immense humor, social commentary, rich characterization and a relentless stream of C.J.O.A.E.
Or, go see, Inside Out, which follows the complex, emotional experience of an 11-year-old girl after her parents move the family from the Midwest to San Francisco. The girl, RILEY starts out as an upbeat, optimistic child ruled by the character, JOY (who is literally Riley's feeling of happiness personified as a blue-haired girl living inside of Riley).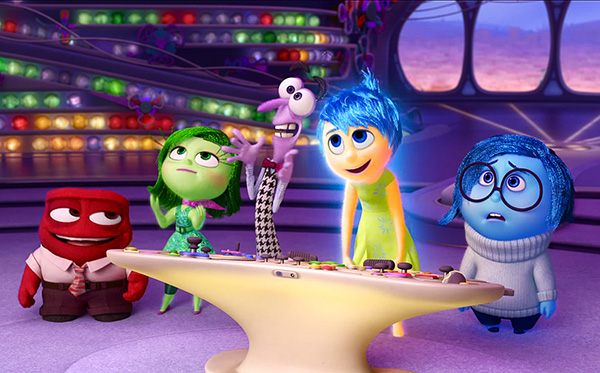 But the impact of being uprooted starts to hit Riley hard and her emotional downward spiral creates major havoc for Joy. The two are launched on separate but intertwined adventures, wherein Riley's drama-filled descent into anger-fueled despair compounds the dangerous circumstances Joy lands in. Both trajectories are marvelously visualized, the scales of serious conflict ever-mounting in both the interior and exterior "worlds" of Riley. It's a white-knuckle punch up right until the bitter end!
Other examples are old road trip films like Bolt and Finding Nemo. In Bolt, a dog that has grown up on a television set as a "super" canine, mistakenly gets released into the real world. He has no survival skills, has no idea how to "be a dog" and must come to terms with the realization that there is nothing "super" about him. He takes a trip cross-country with a well-seasoned alley cat and trailer-park-raised hamster. The myriad high-stake obstacles they encounter along the way, as well as the deeply layered friendship they forge, while the dog grapples with his future and who he is, make for a first rate script.
So too, Finding Nemo, where an over-protective father fish loses his young son and must traverse the oceans of the world to find him, is marked by ongoing difficulty on the plot and story levels, for both father and son. The father faces killer creatures of the deepest sea, while the son floats trapped in an aquarium, encountering his own, very vital and colorful experience rife with impending danger.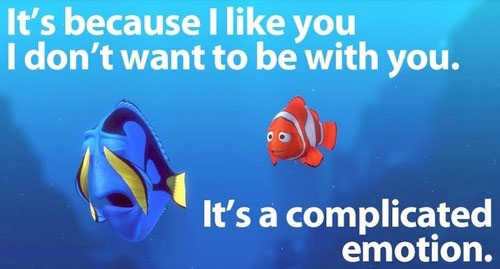 Both father and son must battle their environments while at the same time growing as individuals: the father slowly learns to overcome his exaggerated fears, gaining some faith in life and much needed confidence overall, as the son realizes he's not as helpless and victimized as his overprotective father raised him to feel. They are mutually empowered by their perilous situations and are at last reunited, into a much happier and healthier relationship.
Other big budget Hollywood movies like The Lego Movie, Wreck it Ralph and Kung Fu Panda 2, as well as outright works of art like Spirited Away, Howl's Moving Castle and Ponyo, by genius/maestro Japanese film maker, Hayao Miyazaki (whose films are in a class of their own) - are additional examples of supreme storytelling brimming with drama.
It may feel strange to sit down to a kid movie in order to help oneself improve as a writer, but we strongly recommend you try it. Track exactly how the plot and story build. Monitor how much time passes before the stakes are raised even higher on the hero. Be aware of how each character struggles along in his or her own specific arc within the overall, main tale. You will certainly learn something and hopefully be entertained – even moved - as you do.
---
Hollywoodscript.com's Judy Kellem Hammett (MA Creative Writing) has industry experience working at DreamWorks, APA & Universal. Hollywoodscript provides many services to writers, from deep consultations to ongoing developmental work. Marketing support is also provided by way of their Bi-Monthly contest and beyond. Judy and her father, Craig Kellem a development executive at Universal and Fox, who served as a SNL staff member, and as George Carlin's agent both work with writers to help them take their work to the next level.